sled
Spinning Wheel
HIIT Methods: Air Assault Dual Action Bike
The Air Assault dual action bike is a challenging metabolic disrupting machine.   For older fitness clients, heavier folks, and those of us with legs that are less tolerant of impact, the Air Assault improves cardio-respiratory capacity and minimizes joint stress.  If you are seeking an intense training experience, look no further than the Air Assault bike.
The number two reason people give for not exercising is limited time–lack of results is number one.  The Air Assault solves both of these problems.  Training sessions on the Air Assault are brief and very effective.
Set your seat for height and reach so at the bottom of the pedal stroke, the knee is bent about 20 degrees.  The arms should not fully extend at the elbows.  The bike is simple– increase the pedal speed and you push a greater volume of air.  Go slow—less resistance.  Go fast—more resistance.  Keep a tall posture to effectively drive with the arms and assist the legs.  I have outlined four of my favorite HIIT Air Assault training routines.  As usual, remember to perform a movement preparation warm up before launching into a HIIT session.
30 seconds on / 30 seconds off
Ride at an exertion level of 7/10 (1 is a stroll and 10 is sprinting away from a lion) for 30 seconds and then pedal slowly at a 1/10 exertion level for 30 seconds.  Repeat the cycle for ten intervals.  You are done in ten minutes.
45 seconds on / 15 seconds off
Ride at an exertion level of 7/10 (1 is a stroll and 10 is swimming to escape the alligator) for 45 seconds and then pedal slowly for at a 1/10 exertion level for 30 seconds.  Repeat the cycle for five intervals.  This workout takes five minutes.
Tabata Protocol
Twenty seconds on at an exertion level of 9/10 followed by ten seconds off at 1/10.  Repeat eight times.  This format is built right into the Air Assault bike timer.  Do not get discouraged if you have to stop well before completing eight intervals.  Work your way up to completing all four minutes of the session.
1.5, 1.0, 0.5 Mile Intervals
Ride for one and half miles and then rest 90 seconds.  Ride for one mile and rest for 45 seconds.  Ride for a half mile.  Record you overall time.
View Mike's video on the assault bike: https://youtu.be/8Y3rmX2cF3s
For more information on the many benefits of HIIT read the The One Minute Workout by Dr. Martin Gibala.
Michael S. O'Hara, PT, OCS, CSCS
Pushing For Performance
HIIT Methods: Sled Training
A good high intensity interval training (HIIT) session creates a disturbance of metabolic homeostasis while minimizing stress on the joints and / or compression of the spine.  Pushing a sled meets both of those goals.  Sled sessions are time efficient, and they have the added benefits of improving leg strength, core stability, and they make you better at nearly every daily challenge.  A well designed HIIT sled training protocol allows you to assess performance and track progress.  Presented below are four of my most frequently prescribed sled HIIT protocols.   Ditch the elliptical, cancel your Zumba sessions, and for the next month, give these a try.
I cannot tell you how much weight to use on the sled.  In general, men can start with bodyweight and women with half to two thirds bodyweight loads.  You will quickly learn if you have too much or too little on the sled.  Any progressive gym will have several sleds and plenty of open space.  The trainers at Fenton Fitness can get you started.
30 / 30 Protocol: Place a stopwatch so it is visible on the sled.  The load on the sled should create a thirty second interval exertion rating that feels "easy".  Push the sled for thirty seconds and then rest for 30 seconds.  Perform eight intervals.
10 – 20 – 30 – 10 – 20 – 30 – 10 – 20 – 30 Yard Interval: Load your sled and start the timer.  Push the sled for 10 yards and rest twenty seconds.  Push the sled 20 yards and rest twenty seconds.  Push the sled 30 yards and rest twenty seconds.  Repeat 10, 20, and 30 yards two more times.   Finish all of the intervals and you will have covered 180 yards.  Record your time.
60 – 30 – 15 Yard Interval: Be careful that you do not use too much load for this HIIT sled session.  Push the sled 60 yards.  Rest thirty seconds.  Push the sled 30 yards.  Rest thirty seconds.  Push the sled 15 yards.  Record your time.
15 Yards Times Ten: Use a load on the sled that allows you to move at a fairly steady pace.  Think racehorse, not plow horse.  Place a stopwatch so it is visible on the sled.   Start the timer and push the sled fifteen yards.  Rest ten seconds and then push another fifteen yard push.  Perform ten, fifteen yard intervals.  Record your time.
View Mike's video on sled training here: https://youtu.be/PfOccHMmzF4
For more information on the many benefits of high intensity interval training, read the The One Minute Workout by Dr. Martin Gibala.
Michael S. O'Hara, PT, OCS, CSCS
Hamstring injuries are on the rise.  In this month's newsletter, Mike O'Hara, PT provides information on preventing hamstring injuries and includes videos of the recommended exercises.  Learn what it is to be "farm boy strong" and what you can do to become a "functional farmer".
Fitness training for those of us past 40 years of age is more complicated.  Physical performance and recovery capacity is dramatically different.  If you need proof, look around for the forty year olds in the NBA or NFL.  The good news is that with proper planning, consistent performance, and the wisdom that comes with age, we can stay fit and active for a lifetime.  I have compiled a collection of tips for the forty plus fitness client. 
Manage Eccentric Muscle Loading
During the concentric portion of a lift, the muscles shorten as the load is moved.  In the eccentric phase, the muscles gradually lengthen as the load is lowered in a controlled manner.  Eccentric muscle activity (lengthening under tension) produces more muscle micro trauma and, therefore, requires more recuperation time.  It is the eccentric aspect of a resistance exercise that creates delayed onset muscle soreness.
Older fitness clients do not possess the same recovery capacity as younger individuals.  Utilizing exercise activities that reduce eccentric stress is a valuable training tactic.  Concentric biased training allows older trainees to perform a greater volume of work and be ready a day or two later for the next training session.
Sled work is my favorite "concentric only" fitness activity.  The muscles shorten to propel the sled and never have to lengthen against resistance.  You can push, pull, row, and press a sled at fairly high levels of exertion and still sufficiently recover between training sessions.
Loaded step ups are a predominantly concentric contraction, lower extremity strengthening exercise.  It teaches balance, core control, and improves single leg strength. The eccentric aspect of a loaded step up is minimal and this makes it an essential exercise for older fitness clients.
My favorite upper extremity eccentric only training device is the Surge 360.  The Surge provides resistance through a series of multi-directional pistons.  All exercise activities on the Surge are concentric only.
Resistance tubing is another tool that can help manage eccentric muscle activity.  The force curve (increased load as the tubing is lengthened and decreased as it gets shorter) helps reduce muscle activity during the eccentric aspect of many exercises.
-Michael S. O'Hara, P.T., OCS, CSCS
The June newsletter brings information on side planks and bird dog exercises for core stability.  Watch the video for demonstration of the exercises given.  Mike O'Hara gives some practical advice on preventing falls in his article, Fall Recall. Read one person's story about his transition from physical therapy patient to gym member, and be sure to check out sled rowing.
In a recent article on interval training, I mentioned my preference for "Crash Free" training modalities. Since that article, I have gotten several requests for more information on training methods that produce an optimal metabolic response with limited biomechanical wear and tear. The long-term goal of any fitness program should be to enhance movement and keep you in the fitness game for a lifetime. Training should never accelerate joint breakdown or destroy your ability to move. Take the time to read the May 16, 2016 Wall Street Journal article by Allan Ripp, "The Accidental Running Guru." These are my top five Crash Free Cardio choices.
The most common gap in fitness programming is the absence of loaded ambulation, or activities that make you move around while under load.  Having two arms to carry and two legs to propel, make us very efficient at moving stuff around– Egyptian Pyramids, Easter Island heads, Stonehenge…  Only recently has the requirement that we lift, carry, push, and pull disappeared from our lives.  An excellent loaded ambulation activity to make part of your fitness program is the Reverse Sled Drag.
Performance
To perform the Reverse Sled Drag, connect a long strap to the base of the sled.  The strap should be at least six feet long.  The strap should either have a pair of handles, or you can attach a set of split handles to the strap.  Keep the spine straight -no rounding over- and sit back so the hips are flexed.  Imagine you are sitting back onto an invisible stool.  Let the arms be long and keep the shoulder blades down your back.  As you drag the sled backward, plant the ball of the foot and drive off the heel as you extend the knee.  Do not let the body turn.  Stay square to the sled.
Loads, Distances, and Frequency
Three or four Reverse Sled Drags for 20 to 40 yards is a good start.  The load you use will depend on your strength and fitness level.  I like to put sled drags at the end of a training session.  There is no eccentric muscle stress with Reverse Sled Drags, so it takes less time to recover from this exercise.  Two sessions a week is a good start.
Rehab Population
Reverse Sled Drags are a knee friendly way of training the quadriceps muscles without overloading the joint.  We use Reverse Sled Drags in our physical therapy clinics as a standing terminal knee extension activity that helps strengthen and increase quadriceps mass after a knee injury.   Reverse Sled Drags are an effective alternative for anyone who needs to avoid more stressful, knee-dominant exercises.
Female Knees
Female athletes have far more knee injuries than their male counterparts.  The good news is that, with appropriate training, we can reduce the incidence of knee injuries in female athletes.  Female athletes who back pedal on the field of competition—soccer, basketball, etc- should work on Reverse Sled Drags.
Fitness and Fat Loss
You will make greater progress toward reaching fitness and body composition goals with Reverse Sled Drags than with any seated leg exercise.  The metabolic demand of dragging a sled can only be matched if you are actually pushing the leg curl machine around the gym.
To view video demonstration of Reverse Sled Dragging, click on the link below:
https://www.youtube.com/watch?v=xBBDgzPFOFM&feature=youtu.be
-Michael O'Hara, P.T., OCS, CSCS
Exercise Of The Week–Sled Sprints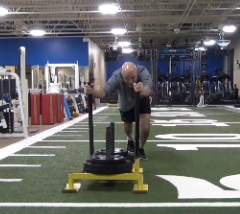 ACTIVITY GOAL:
Improve anaerobic conditioning. Improve speed and power of the legs.
OBJECTIVE:
Strengthen and increase power in the hipflexors, glutes, hamstrings, and calves. Improve efficiency of the glycolytic energy system. Increase fast twitch muscle fibers with less impact or stress than sprints or jumps.
STARTING POSITION:
Load a sled with 25-50% of your bodyweight. Extend arms and grab handles toward the top. Brace your core and keep a straight spine from the back of your head to your hips leaning slightly into the sled.
PROCEDURE:
Once into position, initiate sprint by leaning slightly more into the sled. Quickly and forcefully flex the hip joint of one leg while simultaneously extending the other leg. Repeat this action as quickly as possible until you reach the desired distance.
COMMON MISTAKES:
Not keeping arms extended. Using too much weight so that speed can't be maintained. Not leading into the sled. Failing to move as fast as possible.
Jeff Tirrell, BS, CSCS
Pushing Through Fitness Barriers
Pushing For Big Results
Most of us have busy schedules and limited time to exercise at the gym.  We want the most benefit possible for our time spent working out.  Sled Pushing is a high value activity that can be utilized by almost all fitness clients.
True Core Stability
How our "muscles in the middle" truly work is in a standing position with our legs in contact with the ground.  The legs are usually in an asymmetrical stance, transferring force from the ground through our body into the arms.  Sled pushing more closely emulates the demands placed on our spinal stabilizers during daily activities.
Training Acceleration
In sports performance, the development of acceleration—the first four or five strides– is critical.   Weight room training with box jumps, barbell squatting, and hang cleans has been shown to produce a better vertical leap number, but not nearly the same gains in 40 yard dash times.  It trains the neural pathways that turn on your acceleration muscles.  Sled pushing places the body in the forward lean position you need to properly accelerate out of the blocks when sprinting.
The Road to Easy Recovery
Sled pushing is all concentric muscle activity and no eccentric.  Eccentric muscle activity (the muscles lengthen against a resistance), creates much of the muscle soreness brought on by exercise.  Your body needs more time to recover from eccentric muscle activity.  You can perform a greater volume of work with a sled, and not be terribly sore the next day.  For older trainees whose bodies require more recovery time, sled work is a valuable training tool.
The Injured Athletes Rehab Training
If you have a knee, lower back, or hip injury, you may not be able to perform squats, lunges, deadlifts, or kettlebell swings.  Sled pushing is an alternative rehabilitation exercise for the lower body.  I have had great success treating runners with knee pain using sled work as a recovery exercise.  The core stability demands of sled pushing are helpful in restoring lumbar function in lower back pain patients.
Scalable to Any Fitness Level
Beginners can start with an empty sled and gradually add weight.  I have been able to progress physical therapy patients from 25 pounds to 125 pounds in as little as four weeks time.  Pushing is a basic movement pattern that most master after two or three attempts.
Michael S. O'Hara, P.T., OCS, CSCS